MACHYNLLETH MUSIC CLUB
  machynllethmusic@yahoo.com  



NEWSLETTER JANUARY 2023
Dear Friends, Supporters and Concert Goers,
I would like to wish you all a peaceful 2023 and hope we can tempt you with an exciting programme of concerts over the coming months.
Our next concert is on SATURDAY 18 FEBRUARY at 7.30pm at The Tabernacle Machynlleth.
Tickets are now on sale via the MOMA website: moma.cymru, on the desk at MOMA, or by phone 01654 703355.
We are privileged to welcome three exciting young artistes who present a concert of well known arias by Mozart, Puccini, Bizet - from La Boheme to Chess - together with some wonderful Welsh Classics and much more. Please bring friends and family and enjoy a wonderful evening of music making given by these highly talented young stars who are already making a name for themselves in the field of opera
John Ieuan Jones Baritone
Ryan Vaughan Davies Tenor 
Michael Pandya Piano
With very best wishes
Sally Marshall and the MMC Committee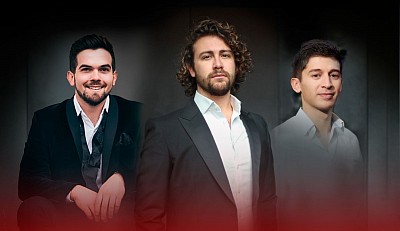 NEWSLETTER DECEMBER 2022
Dear Friends, Supporters and Concert Goers,
It seems a very long time ago concert halls started to open up post covid and we all tentatively joined an audience for the first time in a long while. What a joy music is and a great healer. We are delighted that we as a Club have been able to present some stunning concerts in 2022 and the wonderful musicians who came, so appreciated your welcome and enthusiasm. In my role as a Director and Trustee of The Tabernacle Trust it is also wonderful to reflect also on the vibrant exhibitions, The Machynlleth Festival, Concerts, Shows, Piano Playing on Saturday mornings, the work of The Friends of the Tabernacle, the dedicated staff, minders, volunteers and my co Directors who are all determined to make The Tabernacle thrive. All this of course does not happen without you, our audience. So I thank you all for for your support and look forward to 2023 with optimism in these difficult times.
Please bring friends, family and new neighbours to our events and spread the word!!
We will continue with our decision to present concerts on an individual basis and then reinstate a season ticket for the 2023/24 series of concerts starting in the Autumn. You may of course, still purchase individual tickets and our concerts are open to all.
Our next concert is on SATURDAY 18 FEBRUARY at 7.30pm.                    John Ieuan Jones Baritone Ryan Vaughan Davies Tenor Michael Pandya Piano                                                                                                      Tickets will be on sale early in the New Year
A REMINDER that the concert on Friday December 16 with OLIVER STIMPSON has been postponed until September. He is a rising star trying to juggle A levels with performing and learning new repertoire but I can assure you, worth the wait!
More dates for your diary:
Sunday 18 December FRIENDS' CHRISTMAS CAROLS with CHRIS DENDY and PUPILS - 3PM mulled wine ~ mince pies ~raffle. Admission Free
Wednesday 21 December MOMA MACHYNLLETH A FESTIVE FUNDRAISER with local Musicians ~ mulled wine ~ mince pies. Collection on the door (suggested donation: £10 ) Proceeds to Credu, Machynlleth Youth Club and Machynlleth Tabernacle Trust.
Save the Date: MACHYNLLETH FESTIVAL 2023 20-27 AUGUST.
May I wish you all a peaceful Festive Season and look forward to seeing you at our concerts. Sally Marshall and the Music Club Committee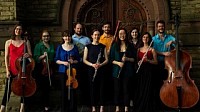 NEWSLETTER NOVEMBER 2022
Dear Friends, Supporters and Concert goers,
Concerts presented by Machynlleth Music at Y Tabernacl:
What an amazing concert given by the highly talented Kanneh-Mason Family in October. An absolutely brilliant evening of music making - if you were there, an unforgettable evening. They will back next year in October!!
  Our next concert is THE MELIORA COLLECTIVE on Friday 25 November at 7.30. We are thrilled to welcome these young musicians, already making names for themselves on the concert platform as soloists, chamber musicians and orchestral players. We have booked all TEN players to give you a great evening of music making. I notice they have a very full diary offering various chamber groupings and have become extremely popular with music clubs across the UK. For our concert they have chosen to play: Ngarrgooron Deborah Cheetham Nonet No.2 Bohuslav Martinu Symphony No. 3 "Scottish" Mendelssohn (arr. Joel Roberts)
This concert has been generously supported by the Garthgwynion Charities.
Tickets £14 18 & under free. On line: moma.cymru or on the door. Please support and bring your friends.   

  NEWSLETTER AUGUST 2022
Dear All, IT'S FESTIVAL TIME!! After a highly successful mini series of concerts presented by the Music Club which I hope you were able to enjoy, we turn to the Gwyl Machynlleth Festival at The Tabernacle. This year the festival returns with an exceptional programme brought to you by Artistic Directors Dennis Jones and Julius Drake and the amazing team at MOMA. I know we are all still exercising caution after Covid but please support if you can. It is truly "A Feast of Music." Full details are on the website: machynllethfestival.co.uk Tickets are available from the box office: 01654 703355. Enjoy!
Music Club News:  At our recent AGM we decided to continue with our "mini series" of concerts until more certain times when we will then return to our usual programme and annual subscription. I hope you will understand.
Saturday 22 October 7.30pm. The return of the wonderful Kanneh-Mason Family. Tickets and more details will be available in September.
Friday 25 November 7.30pm. The Meliora Collective. An exciting group of young musicians - we have booked all ten musicians with the help of the Garthgwynion Charities! This promises to be a really exciting evening - details to follow in September.
Friday 16 December 7.30pm. Oliver Simpson - cello. The extraordinarily talented 2021 winner of the Gregynog Young Musician. He has recently performed the Elgar Cello Concerto with the Liverpool Philharmonic Orchestra.
I do have some exciting concerts up my sleeve for 2023 so watch this space! We look forward to welcoming you all again, With our very best wishes Sally Marshall Chair/Concert Organiser and the Music Club Committee M  
                                         NEWSLETTER                          JUNE 2022
Dear All,
DOMINIC DEGAVINO  PIANO
(Countess of Munster Musical Trust)
We hope you enjoyed our last two concerts. It has been a privilege to welcome musicians to our concerts at Y Tabernacl again, and thank you for making them so welcome.
For our final concert in our "mini series" we welcome back rising star, Dominic Degavino, piano. He wowed us all with his accompanying skills for the Tom Mathias concert and I am sure his afternoon recital will be no exception. You may even have heard him at the Hay Festival. A full biography can be found on our website.
I am sure this will be a wonderful afternoon of music so please spread the word and come and enjoy. Tickets are £10 on the door (cash and cheques only) and free for under 18's.
Programme:
Beethoven                Sonata in C major  Op. 2 No. 3
Amy Beach               Five Improvisations  Op. 148
                                            Interval
Schubert                    Allegretto in C minor D. 915
Brahms                      Piano Sonata  No.3 in F minor  Op.5
Dates for your diary:
AGM.   Wednesday June 29 7.00pm Foyer Y Tabernacl.
NEWSLETTER MAY 2022
                               NEWSLETTER                    MAY 2022  
Dear All,
Here are details and a reminder that our next concert is on FRIDAY MAY 20 7.30pm at Y Tabernacl Machynlleth. Tickets are £10 on the door and free for under 18's. There will be a bar and the usual tea and coffee. Please note that all refreshments will be served from the bar.
We are delighted to welcome two rising stars TOM MATHIAS violin and DOMINIC DEGAVINO piano. Tom is Aberystwyth born and well known in the  area for his  excellent performances  and it is a privilege to welcome him here at Y Tabernacl. He is joined by Dominic who is making a name for himself not only as a soloist but also is also as a passionate chamber musician, accompanist and jazz player. He will be giving a recital  for us on Saturday June 11 2.00pm. Further details can be found on our website.
I know this will be a stunning and memorable evening of music. We look forward to welcoming you. Please spread the word and bring friends and family.
Programme:
Schubert        Sonata in A major
Piazzola         Histoire du Tango
Massenet       Meditation
Interval
Ysaye             Solo Sonata 6
Strauss          Sonata
Ernst               Carnival of Venice
We look forward to welcoming you,
Sally Marshall and the Music Club Committee.                                                                                              
              NEWSLETTER.                         MARCH 2022
Dear Members,
It is wonderful to say "Welcome back!" The committee has been working hard to present a series of concerts, relaunch the Club and celebrate a return to Concerts at Y Tabernacl. So many musicians have kept in touch and it is a privilege to honour the concerts held over.
We will not ask for a subscription until the usual series beginning in the Autumn and instead will charge for each concert on the door. The first concert is a free concert with a retiring collection.
Committee. We have a dedicated team who work hard to present our concerts. We urgently need help here. The position of Treasurer is vacant and essential to our functioning as a club and charity. We also need help with stewarding and refreshments on the day of concerts.
Please contact me if you are able to help: sallymarshallmusic@btinternet.com  or 01654781304 / 07710452767.