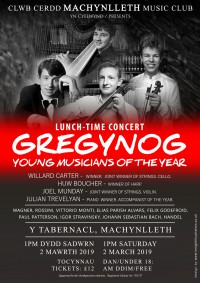 Dydd Sadwrn/Saturday Mawrth 2 March Lunch-time concert 1.00 A concert in the series "Showcasing Youth" GREGYNOG YOUNG MUSICIAN 2018 WINNERS WILLARD CARTER CELLO 2018 GREGYNOG 'YOUNG MUSICIAN' JOEL MUNDAY. VIOLIN 'YOUNG STRING PLAYER OF THE YEAR' HUW BOUCHER HARP 'YOUNG HARPIST OF THE YEAR' Gregynog Young Musician has gone from strength to strength and this year the standard of competition was exceptional with dazzling performances throughout the day displaying a wealth of ability and virtuosity. This concert will showcase the talents of some of our rising stars of the future. Programme to include:
Handel Bach Boulenger, Brahms and harp music by Welsh composers
Friday Hydref 26 October 7.30 Extra Concert - £10 for members (Not included in the Music Club 5 concert subscription) A concert in the series "Showcasing Youth" KANNEH-MASON FAMILY This enormously popular and talented family return again to give us another evening of outstanding music making. They have won many prizes and awards for their music and appeared in numerous television shows. Jeneba was a Keyboard Category Finalist in the BBC Young Musician 2018. The family members playing: Braimah, Konya, Jeneba, Aminata and Mariatu. Programme to include: Chopin Ballade No. 1 Prokoviev Sonata No. 7 William Kroll Banjo and Fiddle
Nos Sadwrn/Saturday Tachwedd 24 November 7.30 CÔR MEIBION BRYTHONIAID MALE VOICE CHOIR Arweinydd /Conductor: John Eifion Cyfeilydd /Accompanist: Elizabeth Ellis We are delighted to welcome back this popular and highly successful Male Voice Choir to the Tabernacle. To date, the Brythoniaid have won the National Eisteddfod on six occasions and since 2012, have been one of the headline performers at the Festival No.6, Porthmeirion.
Dydd Sadwrn/Saturday Ionawr 26 January Lunch-time concert 1.00 CATRIONA McDERMID BASSOON with MANA SHIBATA OBOE SULING KING PIANO (Supported by The Countess of Munster Musical Trust.) Catriona studied Music at Oxford and completed her Masters at the RCM. She has recently played with the BBC Philharmonic and Symphonic orchestras amongst others. She is a keen ensemble player and brings with her two of her fellow members of The Magnard Ensemble. Programme to include: Peter Hope Trio Stephen Dodgson Suite for Oboe and piano Edward Elgar Romance for Bassoon Nino Rota Toccata for Bassoon and piano Francis Poulenc Trio for Oboe, Bassoon and Piano
Nos Wener/Friday Chwefror 15 February 7.30 'BEETHOVEN IN WALES' MARY HOFMAN VIOLIN RICHARD ORMROD PIANO (Supported by PRS Foundation's Women make Music, The Colwinson Foundation and Ty Cerdd.) Since graduating in 2007, Mary has pursued a varied career as an orchestral and chamber musician. She has worked as guest leader of the Edinburgh Quartet as well as performing with the Endellion Quartet and regularly plays with Ensemble Cymru. She has worked with most of Britain's leading chamber orchestras. Mary and Richard have performed duos together for five years in various venues across the UK. Beethoven in Wales is a project with Rhyl Music Club to perform all ten Beethoven Violin and Piano sonatas in ten music Clubs across Wales. A new work has been commissioned by Rhian Samuel, Hilary Tann and Sarah Lianne Lewis for each set of sonatas. Programme: Beethoven Sonatas Op.12. 1, 12.2,12.3 and 24 Rhian Samuel: New Commission
Nos Iau/Thursday Mai 9 May 7.30 A concert in the series "Showcasing Youth" MUSICIANS FROM SHREWSBURY SCHOOL It is a delight to welcome back these highly talented and gifted students who gave us a wonderful evening of musical entertainment last year. Extra Concert - £10 for members (Not included in the Music Club 5 concert subscription.)
Friday 17th May 7:30 p.m Noriko Ogawa piano
Programme: MOZART III. "Alla Turca" from Piano Sonata No. 11 in A major, K. 331 SCHUMANN Kinderszenen Op.15 BEETHOVEN Piano Sonata No. 23 in F minor, Op. 57 "Appassionata" Interval ELGAR Salut d'amour, Op.12 RACHMANINOV Vocalise DEBUSSY Arabesque No.1 Clair de Lune La Cathedrale Engloutie CHOPIN Grande valse brillante in E-flat major,